New City Comedy, a brand new comedy Club located at 253 South Little Tor Road above Gio's restaurant in New City is offering great comedic entertainment in an intimate space.
The brainchild of New City resident and veteran Manhattan nightclub owner Eric Fisler, the New City Comedy club holds 100 patrons and features great comics at an affordable price. "After being forced to close down my NYC nightclub of 24 years due to COVID, I picked up what little resources I had left to create a New City comedy club space, near to my home, where, after being isolated for so darn long, I wanted to see people come back together to share the powerful God-given-remedy of laughter," said Fisler. "I think I came dangerously close to forgetting how to laugh, which is kinda funny."
Doors open at 7:30pm and the show begins at 8:00pm!
Two for One Tickets are available here New City Comedy Club
After selecting the number of tickets, enter the coupon code NCC
Click the "Checkout" button
Enter the coupon code NCC
Click the Enter button on your keyboard and the discount will be applied.
Headliner Johnny Lampert:
Johnny Lampert is considered one of the premier comedians in the country. He is a regular at New York City's and Los Angeles' best comedy clubs including The Gotham Comedy Club, The Comic Strip, Caroline's Comedy Club and The Improv. Johnny has also made numerous appearances on national television including featured performances on MTV, A&E, Comedy Central, NBC, HBO Comedy Showcase and most recently on AXS TV's Gotham Comedy Live!
Johnny's wildly successful appearances at Montreal's "Just for Laughs" Festival led to his being named "Best Act" by The Montreal Gazette as well as the signing of a sitcom deal with The FOX network and Walt Disney Television. Johnny was also honored recently with, not one, but two of his routines being chosen for inclusion in the soon to be released book, "The Best Comedy Routines, Period"(Rugged Land Books, NY).
In the casinos, Johnny has appeared at The Mirage, Foxwoods, Caesars Palace and The Claridge where he has worked with such stars as Dana Carvey, Michael Bolton, Chicago and Chris Rock. Johnny has also headlined the main room at Connecticut's Mohegan Sun Casino and Atlantic City's Borgata Hotel and Casino.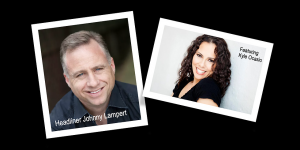 Feature Performer: Kyle Ocasio
Comedian Kyle Ocasio has been performing stand up all over the country for well over a decade. She brought laughter to the US troops in eight different countries while performing with Armed Forces Entertainment. She has led comedy tours in Europe and The Middle East.
In 2014, She was featured on AXS TV's Gotham Comedy Live and regularly appeared on several TV shows including the popular Fox News satirical political comedy show Red Eye.
Before heading to the Edinburgh Fringe festival where she debuted her stand up for an international audience, she was the face of Optimum TV's Soccer Mom Goals, a show with a comedic twist on "momentating" on the 2018 World Cup.
Rooftop Comedy released her debut album "Tell Mommy Your Name Again" which is in regular rotation on Sirius XM and in 2018 she recorded her second album with Rooftop, this time a collaborative piece entitled "Three's Comedy" with two other comedians. It was number two comedy album of the summer, just behind Jim Gaffigan.
She is a regular guest on many Sirius XM shows including John Fugelsang's Tell me Everything as well as The Tom Shillue Show on Fox News Radio and the podcast Keith and The Girl. Her comedy has been featured in Time Out NY, AM New York, and Glady's Magazine. Her funny merchandise is an audience favorite and was featured on the website Keep.com.
Host / MC: Andrew Rich
A local Rockland comedian, Andrew's observations about life and himself make for a night of genuine laughter.