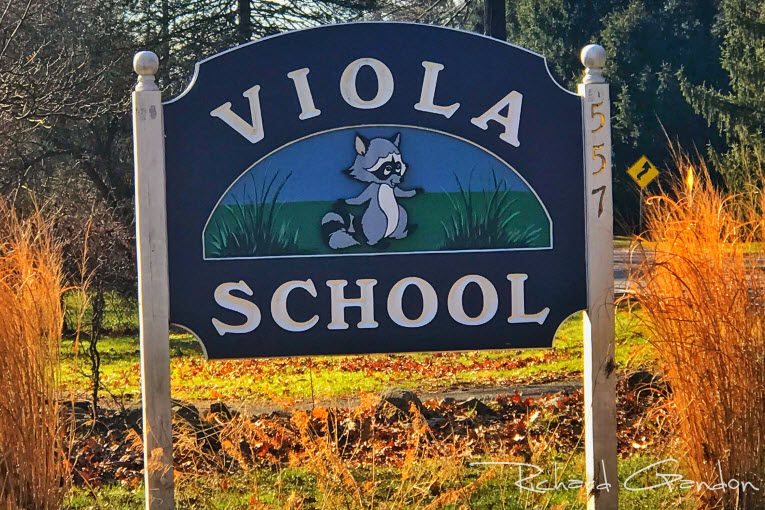 Chief Weidel "Pleased by Law Enforcement Response"
At 1:20pm yesterday possible gunfire, also described as a "loud bang" was heard outside the school by a number of faculty members.
Ramapo Police were called and they responded quickly to the scene.  Prior to their arrival, the school immediately took precautionary measures and imposed a lockout, meaning that nobody was allowed to enter the school.
The school was then put on lockdown as Ramapo PD took over. The NY State Police and the Rockland County Sheriff's department were called in and a perimeter was set up.
The Rockland County Sheriff's Aviation Unit took to the sky with a sergeant from the Ramapo Police Department on board to conduct an aerial search. The wooded area around the school was searched by officers on foot.
According to the Rampo Police Department's Public Information Officer, "All precautionary measures were taken and no suspicious activity or people were observed in the area."
"On Wednesday afternoon at Viola Elementary School there were loud noises reported outside of the building that were uncommon to what is normally heard.  As a precaution, the police were called to investigate and the school was put on lockout, and then lockdown. The police did a full sweep of the area and found nothing out of the ordinary, and the lockdown/lockouts were ended," said Dr. Douglas Adams, Suffern Central School District Superintendent, "We took this as an opportunity to practice all of our safety drills and the students and faculty responded quickly and appropriately.  We also want to thank the police departments for their quick and cooperative responses to the matter."
The Ramapo Police Department maintained a presence in and outside school until after dismissal yesterday. A marked unit was stationed outside the school this morning because although there is no suspect, police were on site to ensure that people feel safe.
An Investigator from the Ramapo Police Department canvassed the area and talked to neighbors around the school.   If Ramapo PD felt that there was a concern, they would have encouraged the school district to take additional precautionary measures.
When asked if Ramapo Police Chief Brad Weidel had a comment we were told:
"The Chief of Police is not going to comment on any school related incident but he is very pleased by the response of the Ramapo Police Department, the support of other agencies and the support of the School District."
Online, some parents were unhappy at not being informed of the incident by the District until later in the day via Robo-call and email. Some felt that they should have been notified as the situation was happening however according to sources we spoke with, the first priority is student safety and last thing law enforcement needs is hundreds of parents descending upon the scene while they are conducting an investigation.
According to one source who does not want to be identified but who was in the building at the time, everyone including teachers, administrators, the Suffern Central School District and responding law enforcement personnel followed proper protocol. "We know what to do and we did it.  Ramapo got here fast and secured the area. I wish people would take a moment to be grateful instead of criticizing without having seen how things unfolded."